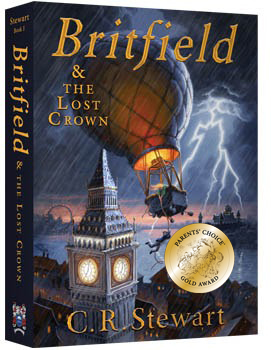 Synopsis
Tom has spent most of his life locked behind the cruel walls of Weatherly Orphanage, but when he learns that his parents might still be alive, Tom knows he must do what he can to find them. He can't leave Weatherly without his best friend Sarah, so armed with a single clue to his past, the word Britfield, the two make a daring escape by commandeering a hot air balloon. Now they're on the run from a famous Scotland Yard detective and what looks like half the police officers in England. Tom and Sarah's journey takes them from Oxford University to Windsor Castle, through London, and finally to Canterbury. Along the way, they discover that Tom may be the true heir to the British throne, but even with the help of two brilliant professors, it looks like Tom and Sarah will be captured and sent back to the orphanage before they have a chance to solve Tom's Royal mystery.
Gold Medals: Parents' Choice Awards, Book & Audiobook 
Gold Medal: Children's Literary Classics International Book Awards, Middle Grade Chapter Book 
Gold Medal: Mom's Choice Awards, Best in Family Friendly Media
First Place: Purple Dragonfly Book Award, Middle Grade Fiction
First Place: CIPA EVVY Awards, Juvenile Fiction 
Winner: Book Excellence Awards, Pre-Teen Fiction
Winner: Indie Reader Discovery Awards, Young Adult Fiction
Winner: American Fiction Awards, Best Cover Design
Winner: Next Generation Indie Book Awards, Children's/Juvenile Fiction
Winner: San Diego Book Awards, Children's Fiction
Winner: National Indie Excellence Awards, Pre-teen Fiction
IndieB.R.A.G Medallion: Award-Winning Middle Grade Books
Blue Ribbons: Old Schoolhouse Magazine, Favorite MG & YA Book and Teen's Choice Award
First Runner-Up: Eric Hoffer Award, Young Adult
Silver Medal: Moonbeam Children's Book Awards, Preteen Fiction
Silver Medal: Global Ebook Awards, Children's Literary Fiction
Second Place: Reader Views Readers Choice Awards, Teens
Bronze Medal: The Wishing Shelf Book Awards UK, Fiction Ages 9-12
Grand Prize Short List: Eric Hoffer Award
Award-Winning Finalist: Eric Hoffer First Horizon Award, Superior Work By A Debut Author
 Award-Winning Finalist: International Book Awards, Children's Fiction
Award-Winning Finalist: American Fiction Awards, Pre-Teen Fiction
Award-Winning Finalist: Best Book Awards, Children's Fiction
Award-Winning Finalist: CIBA Gertrude Warner Award, Middle Grade Fiction
Award-Winning Finalist: CIBA Dante Rosseti Award, Young Adult Fiction
Award-Winning Long List: Shelf Unbound Magazine, Best Indie Book
"A perfect mixture of fast-paced excitement, heart-stopping surprises, fascinating history, and endearing characters with historical references scattered along the way. Stewart's clever narrative draws you in and doesn't let you go till the end!"
- Reader's Favorite Book Reviews - 5 Stars!  
"In this series opener, Stewart offers nearly nonstop action, with escapades both perilous and amusing, and exhilarating hairsbreadth escapes. The conspiracy is bold and compelling while the plot folds in intriguing facts about British culture, history, and famous sites."
- Kirkus Reviews
"An intriguing first-in-series read that is sure to capture the attention of middle grade and young adult crowd.  Britfield weaves plot, texture, storytelling, and fascinating characters into a winning combination and enriching experience."
 - Chanticleer Book Review - 5 Stars!
 "The story was everything the cover promised. I felt like I was in a kid's version of Mission Impossible. I was on the edge of my seat with narrow escapes, daring plans and unexpected adversaries."
- Autumn, Age 14, Reader Views Kids
"Along with its relentless action and suspense, Stewart's novel provides young readers with a wealth of information about British culture (with frequent references to literary classics) and the history of the Monarchy and the Anglican Church. Highly recommended, Britfield and the Lost Crown will appeal to both young readers and their parents."
- Parents' Choice Awards - Gold Medal Award
"A joy to read to the very last page, Britfield & The Lost Crown is a high-spirited saga, enthusiastically recommended for personal and public library young adult fiction collections."
- Midwest Book Review
"A thrilling tale with loads of adventure and unexpected twists that will captivate youth audiences.  Recommended for home and school libraries, this book earns the Literary Classics Seal of Approval."
- Children's Literary Classics - Gold Medal Award
"This is a far-flung adventure story that will readily interest the target audience. Stewart writes in clear, descriptive prose and integrates alluring and novel details that at times harkens back to an earlier era, an effect that offers an element of timelessness to the storytelling."
- The Booklife Prize
"Such a thrilling book filled with so much awesome history about England, crazy mysteries, and truly amazing characters. It had me hooked every second of reading it!! I can't wait for the sequel."
- Hannah, Age 13, Kids' Book Buzz - 5 Stars!
"With Stewart's lively storytelling, relatable characters, and exceptional plot twists, this young adult tale creates a page-turning frenzy filled with delightful suspense."
 - IndieReader